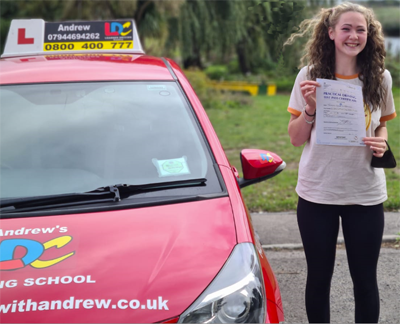 Jordan
Passed 1st time
By far the most incredible driving instructor I have ever learnt with. He was always so calm and made me feel at ease through all our lessons. He made sure to cover everything that I would need to know for my exam. His positive energy and reassurance throughout all my lessons are 100% the reason I managed to pass my exam. I would highly recommend Andrew 🥳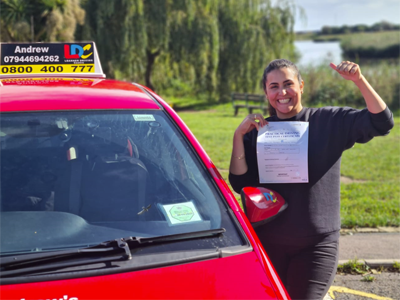 Veronica
Passed 1st time
I had the best driving instructor, I passed my test driving on the first attempt, I'm really happy about it. My driving instructor Andrew is so professional with a lot of patience to teach. When I made mistakes, he always explained to me how I should do it properly and why. Best of all, Andrew is a very calm person and that made me feel very confident in every driving lesson. I would recommend 100%. Thank you so much, Andrew, you are the best !!!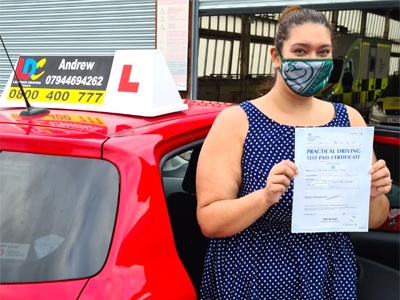 Rebecca
Passed 1st Time
Andrew is an amazing instructor, I had changed the car type that I was learning in and he made every effort to fit me into his schedule, a real commitment to my learning. I was extremely nervous on manoeuvres and his methods of explaining and reference points quickly helped me to gain competence and confidence with them all. A truly friendly, helpful and understanding instructor, I can't recommend him enough, he is the difference that got me the pass today.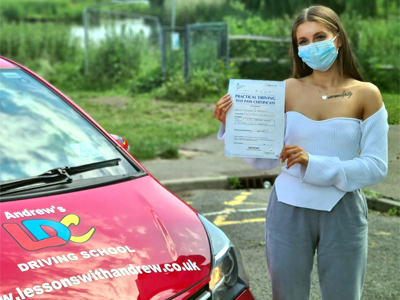 Harleigh
Passed 1st Time
I really like to thank Andrew as I could have have not done it without him. He was so patient and I only needed a few lesson before I was confident with my driving. I really appreciate all the faith he put in me.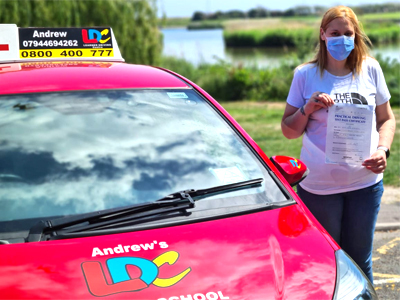 Kirsty
Passed 1st Time
Learning with Andrew was the best thing I could've done. He inspired me with confidence and guided me through to overcome my weaknesses. I was amazed when he said I was ready to take my test after just 10 hours of instruction. By the time I took my test I had completed a further 7 hours and Andrew was proved correct as I passed first time. I would recommend Andrew to anybody looking for an instructor and I am confident that he would be able to get anybody through their test first time. I am very grateful to Andrew and I am sure he is the best person for the job.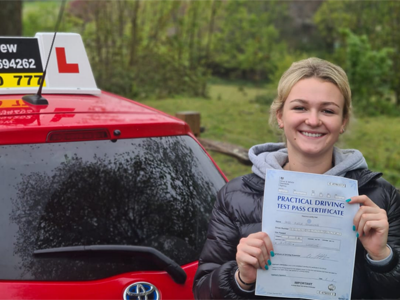 Olesia Golovina
Passed 1st Time
Andrew is a brilliant instructor. Patient, polite and always positive. Explains everything well and clearly. Would definitely recommend!!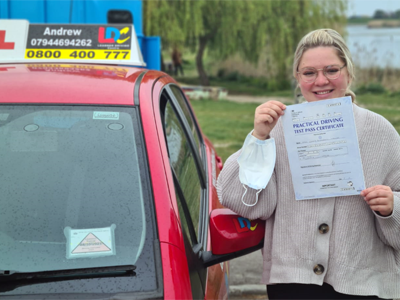 Maria Walker
Passed 1st Time
I'd be having driving lessons on and off for about 5 years and never got to a point where I was ready to take a test. I started with Andrew in October and by November was ready to take a test (unfortunately COVID meant I couldn't take that test and the 3 after that!). Andrew taught me how to drive properly instead of just being "test ready". I feel so confident driving and passed my test first time with 4 minors - something I never imagined happening. Couldn't recommend Andrew enough!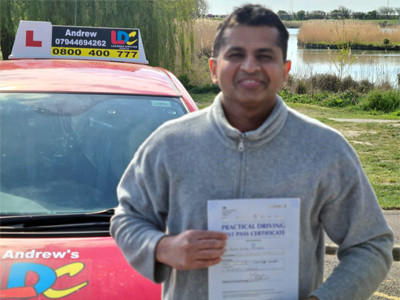 Dr Sanjeeva
Passed 1st Time
I would like to pay my heartfelt gratitude to Andrew for his dedicated guidance to achieve my target during a short period. His techniques were helpful to perform manoeuvres much easier. Fortunately, I drove through all the possible routes with him and it provided me confidence during the test. It is my pleasure to appreciate his excellent guidance and I would recommend him without any hesitancy to all my colleagues in the NHS.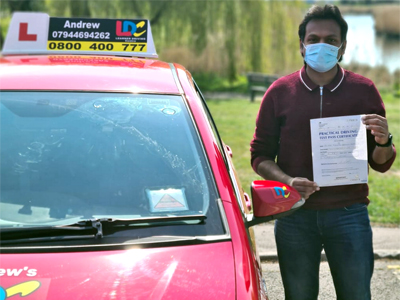 Mr Asela
Passed 1st time
It was really pleased to pass the driving test under the guidance of Andrew. He was my very first driving instructor in the UK and within very short period of time he was able to catch me up with the areas I needed to improve with. His focused, technical and methodical guidance helped me to accomplish this task successfully. He is very flexible, kind and amazing instructor indeed. I can highly recommend Andrew as a great instructor to accomplish your driving test without any hassle.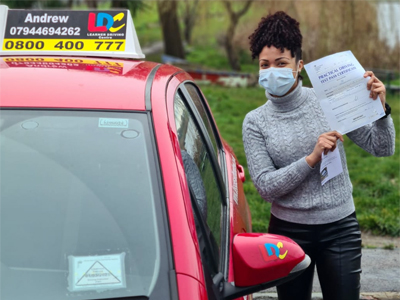 Liz-ann Jaggernauth
Passed 1st time
I recently passed my driving test with Andrew as my instructor. He was very patient and informative, helping me work on my weaknesses in a constructive way. I highly recommend him as a driving instructor 💯. Andrew was very accommodating through this pandemic, he ensured that it was a safe environment to drive in." Liz-ann Jaggernauth.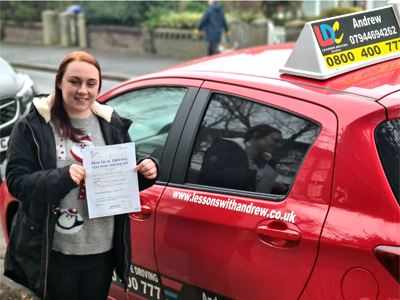 Hannah
Passed 1st time
I started lessons with Andrew in July this year. Despite some longer breaks between lessons due to Covid, Andrew was incredibly patient and encouraging and gave me the push I needed to make progress each lesson. I had very little confidence when I first started driving and felt as though I'd never get to my test but I managed to pass first time with only two driving faults! Andrew is so supportive and very easy to get on with and because of that, I would definitely recommend him!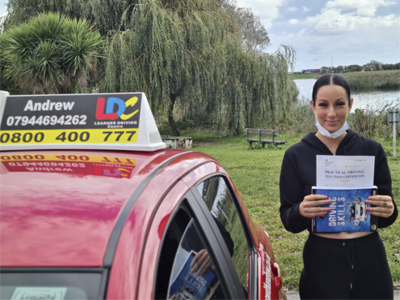 Stephanie Carden
Passed 1st Time
Learning to drive with Andrew was amazing! He's so friendly, professional and most importantly patient! Feel so confident now and I wouldn't recommend anyone else! Steph Carden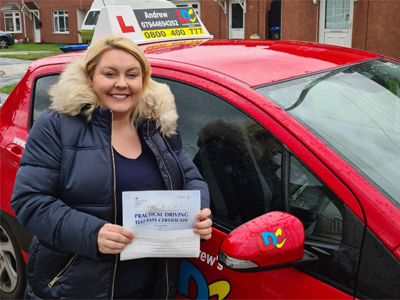 Laura Simpson
Passed 1st time
After 10 years of struggles with confidence behind the wheel finally able to drive thanks to Andrea! Super patient and kind, a natural teacher. Always able to work with my crazy schedule. Thanks Andrew!!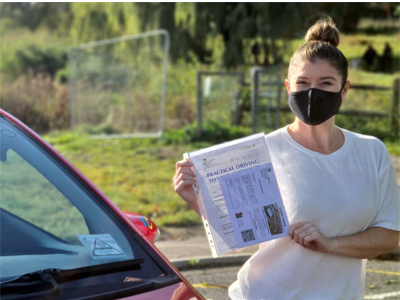 Bonnie Assig
Passed 1st Time
A massive thank you to Andrew for guiding me through my driving journey. He was a very thorough and supportive teacher and I went into my test feeling completely ready and confident, resulting in a first time pass with 2 minors. I highly recommend him. Bonnie Assig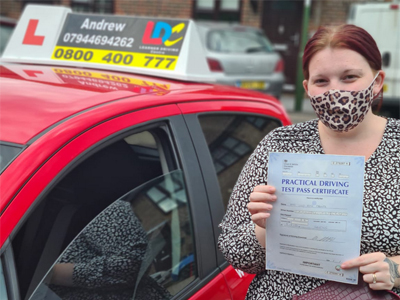 Lilly-Rose French
Passed 1st Time
Just want to say a massive thank you to Andrew at LDC driving. I couldn't recommend him enough, he was calm & supportive and always made time to fit me in around his and mine busy schedules, as a nervous first time driver I felt in control and at ease instantly under Andrews watchful eye. I never thought I would have passed my test as quickly as I did but thanks to all the support given I managed to achieve my goal. Highly recommend to anyone who's wanting to learn and pass with confidence! Thanks Andrew ☺️🚗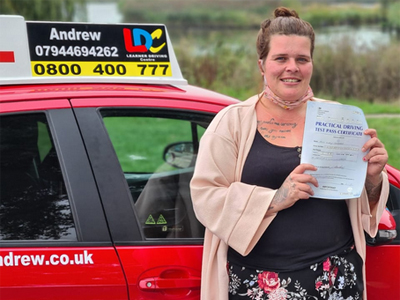 Keely Charman
Passed 1st Time
I had a very good experience with Andrew! He taught me from scratch not knowing how to drive and 30hours later I'm passing my driving test with only one minor. I would 100% recommend him. the best driving instructor I know!